Disclaimer
:

Memory

is a funny thing, and an elusive one. Meaning; I might have some of this wrong, as 1. My memory is not always accurate, like anyone and 2. It is from my perspective only. Any friends who were there, feel free to correct me or add things I have missed. It helps! Also, no

gossip

on anyone here, it ain't about that. Personal details are on a surface level, and friends, girlfriends

and

others are re-named to respect their privacy. People in bands generally put their names out there on albums and in interviews anyway, and are not in the habit of staying

anonymous

, and

therefore

are named here. That

said,

anyone

who

is in the blog that wishes

me

not to use their name has only to ask.
Sea
ttle
Years

Disclaimer

: As I enter the Seattle years in this music

blog

, the

above

disclaimer goes double, because so much happened and there are so many details to cover in this 14 year period; so many shows, so many bands, so many friends and so much change in my life. As a result of this and the fact that the four of us who

formed

Treepeople found ourselves in the midst of a scene which blew up around us and attracted the eyes of the world just 2 years after our arrival, not to mention the 12 years I played music following that, I am bound to, hell, I will forget something.

This means two things: I will be coming back to entries and adding things to them over the months following publication, and, that the part of the above disclaimer where I ask for help from people in keeping me honest and in remembering things is crucial to them. I thank anyone ahead of time who was there, and, those who weren't there who have access to valid info, for helping me to correct errors in dates or chronology. Yes, I have the Internet, but many bands, scenes and things I will cover did not receive the attention I feel that they deserved and thus I will recall them mostly from memory, or rather, memories; mine and those of friends. Also, friends who were in bands which I do not happen to mention, please don't take it personally, just remind me. I have created a monster in undertaking this blog, one which I am determined to ride until the end!

Lastly, as mentioned, this scene gained national attention, and thus,

needless

to say and as we all know, many bands/people became famous, became rock stars, were/are admired by millions, etc and etc...This makes another part of my original disclaimer even more important. This memoir is intended to tell my story, from my perspective. I have no intention of creating a place where people can seek gossip about famous people, nor is it about 'name-dropping'. I write of my impressions of people, bands, and the Seattle scene from the '90s into the early 2000s. I protect those who are my friends fiercely because a symptom of being known is frequent intrusion into their lives beyond a level that I feel is acceptable. Thank you for indulging me this disclaimer.
A kind

of

disclaimer on Violent Green entries...In writing about the band Violent Green, at this time I am not in contact with Jenny O'lay, so I am not directly getting input from her, and, one member is no longer alive. In the case of the former, out of respect to O'lay, I am compelled to keep personal details at a high level, and in terms of Drew Quinlan (RIP, Brother), I am not in touch with any of his family to get approval of what I write about concerning him, as I did with my previously passed bandmate, Pat Schmaljohn (and thus felt better in writing about Pat) but I do not have the same access to family in Drew's case, so for that reason, out of respect for Drew and his family, I will also keep details at a high level. I won't make it cold and unpersonal, don't misunderstand me. Our dynamic as people was a huge part of the band. I guess what I am getting at is there are details that will remain private, to meet with high standards I strive to meet on this blog, even more so in light of this lack of input from the former bandmates of which I write.
I hope I have achieved these standards. This
also brings up the point I always make, but it is important to reiterate; this is all from my perspective only, and of anyone whom I get input from.
Our odd relationships and their tensions were one with the music, and I think, actually I know, that was a good thing, a necessary ingredient of this band, a band that forever reshaped how I thought about music, both listening to it and making it. I owe that to Drew and Jenny's brilliance and imperfectness, which made me feel okay about my own imperfections, (only to a degree, as my inner, self-critical voice was still in full effect) and it helped me realize that even I held brilliance, in my own way, when I played with them, warts and all. One thing I can confidently say is; we gave a fuck about the music. And that was because this was a highly musical band (most of the people who got what we were doing were musicians themselves) and thus I will focus much of my energy in terms of the VG entries talking about that; the music, it's influences and forms, and how the three of us and what we brought to the band from previous projects and the music we each loved, created, eventually, a rich tapestry. It is worth digging into this world O'lay spun with this bizarre, dark, poppy, goth, folksy punk music from

Mars

~ *
I have realized that this period of my life was so busy and so many things weave together with each other, I need to do longer entries.

"I hear Trees falling"...and see new shoots of life
The last time I saw Treepeople was in '93 or so (early '93, as Pat and Doug were still in the band, late '92?), Steve Fisk and I went to see them at the OK Hotel in Seattle. It was the first time I felt comfortable doing so. They were great, and at this point they had stage hands doing guitar switches on stage, and had somehow gotten a sponsorship from Gibson guitars (their SG model was and still is Scott's favorite axe). I was pretty amazed by all this.

Scott Schmaljohn finally called it quits with carrying
on

the Treepeople name in 1994, after many lineup changes (in which the person who replaced me on drums, Tony Dallas Reed, played drums, guitar and bass over time in different lineups). Also playing in the later lineups was bass player Eric Carnell, a Seattle musician and friend of Treepeople. The final line up was Carnell on bass, Eric Akre on drums, John Polle on guitar and some songwriting, and of course Scott Schmaljohn as main songwriter and guitarist.
Artwork by Mike Scheer, photograph by Jhoanna Calma
Treepoeple's final LP was Actual Re-enactment, which received mixed reviews, in part because of things I have discussed in previous entries about how Scott continuing Treepeople without Doug Martsch didn't sit well with some fans, but I have also seen some glowing reviews of it. By this point, I wasn't tracking Treepeople as closely as right after I quit. I heard some tracks here and there and liked many of them a lot, but I felt they were no longer Treepeople songs as I knew Treepeople. That is of course my personal bias. There are many fans who were introduced to Treepeople with this record and love it, as did many long term fans. And there are songs like Low and Will We Ever that are really good, but they felt like Scott Schmaljohn songs to me. Weird to say because he was half the songwriting in Treepeople, I struggle to make it understood that these songs are different! Kind of like how Doug's Built to Spill tunes were different than his Treepeople tunes (though in Scott's case less so, thus the 'Kind of like...'). Dig?
John Polle has always been a favorite musician/songwriter of mine (and a great guy!) and I like everything he has been part of, and I do feel he was a good fit for Treepeople, especially in his honoring of the traditional TP guitar play. But I feel his songwriting wasn't always a fit with Treepeople, despite the songs being of high quality. He would shine in the next band to form out of the breakup of Treepeople, Stuntman, whom I discuss below.

For me, as I have mentioned, Actual Re-enactment highlights Scott's songwriting
evolution and

strengths, and hinted at what was to come once he was liberated from the daunting Treepeople name, which by 1994 had a solid reputation attached to it. The songs are well-crafted, the playing very tight (especially Akre's drumming), the production excellent. I wasn't the best judge, then or now, not just because I was an ex member of the band, but because I hadn't listened to it much. To be honest I feel a bit embarrassed by that fact, but by this point, as you can tell if you have been following these recent entries, I was little busy!
It was definitely time for Scott to move on, and I feel now and felt then, as I have mentioned, that his own voice as a songwriter deserved to be heard, deserved to be free. Scott will tell you, and has told me in an interview, that his songwriting is what it is no matter what band he is in. This is of course spot on (Scott on? ; ) generally, but I think that since Treepeople started as a two songwriter band, there were certain constrictions as a result, as, possibly, in his mind, even subconsciously
, he may have been in part shaping songs to be songs for that name. Obviously, this is my opinion.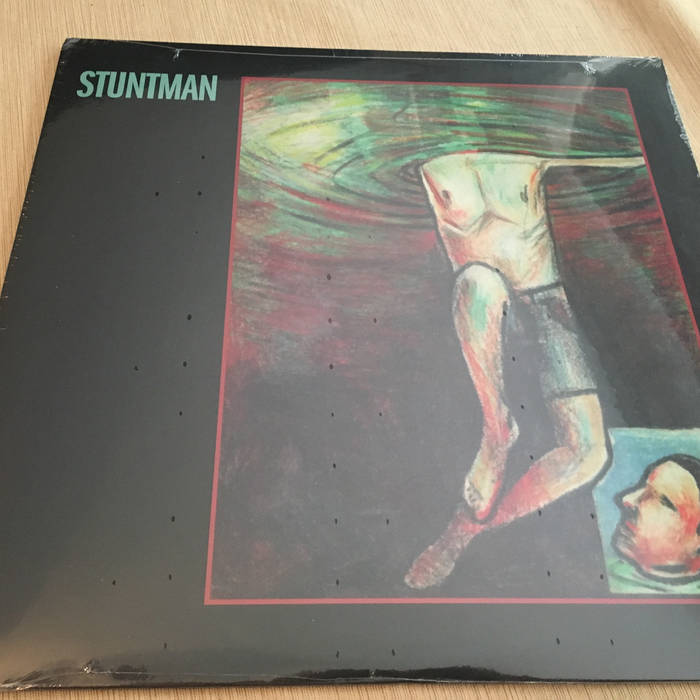 Photo of Stuntman's debut LP from Gravy Lane Records bandcamp page for a recent vinyl re-release: https://stuntman1.bandcamp.com/album/stuntman
Stuntman
"...John Polle one time asked the bartender at a show in Eugene if he could have a pint glass of scotch. The bartender laughed and said "Um, I don't think so." I think you get the picture…" ~ Scott Schmaljohn
I wrote a bio for the re-release of Stuntman's excellent self-titled, debut lp recently (https://stuntman1.bandcamp.com/album/stuntman), re-released by Gravy Lane records on vinyl. I will quote from it here and there, and I have included it in its entirety at the end of this entry. Regarding the name choice for the band, Scott described it this way in my interview with him for the bio:
"...We struggled with a name and our first working title was "Dry Socket". I had gotten wisdom teeth pulled and I thought it was kinda cool. Glad we changed it [the band played a few shows under this name, as well as the name 'Blanket Party']. I always liked the name Stuntman because of the '70s reference (I always wanted to be a stuntman growing up). I also thought the Stuntman title was appropriate since you have to get up on stage and throw yourself into the music. You beat yourself up on tour and keep going every night…"
The members of Stuntman were: c
o-guitarist/songwriter John Polle (who was also in the last lineup of Treepeople on guitar and songwriting, of course), drummer Mike Rundle, an active musician from the Boise music scene and Sean Lennon (no, not that Sean Lennon!) on bass, from Pullman, Washington, as was Polle, and both were longtime friends/fans of Treepeople.
Lennon and Polle were in a couple bands in their Pullman days, one of which was a cool band called Thin Section. In an email exchange where I reached out to Sean Lennon to help me with corrections in the bio (thank you for the many corrections, Lennie!), he talks of the genesis of Stuntman, "...Our earliest set list was comprised of Treepeople songs left over from the last album Actual Reenactment that JP played on. Those songs were Heinz Von Forrester, Bag Of Wood, and Bootstraps. The other half was comprised of re-worked Thin Sections songs; The Right Channel, Car Crash, and the The Devil. There were a couple new tunes as well; Chickens Don't Have Fingers which Scott & I wrote together, and Watch which was a Scott tune. The Right Channel ended up coming out on our first 7" along with Watch. This single was put out by Twitcher Records out of NYC. Car Crash came out on our second 7" along with a JP written tune called Robert Marshall Long on Sonic Bubblegum out of Boston. The Devil is the only Thin Section song that came out on the first album and coincidentally is the first song JP and I ever wrote together..."
What can I say about Stuntman? Oh, I know...KILLER band. Of course I am biased as fuck. But they really did rip shit up. Their debut LP simply shreds. (See link to Bandcamp page above). Scott's songwriting freed from the trees...(sorry, couldn't resist). Obviously he and Polle were already locked from playing together in Treepeople, and speaking of Polle, as I teased earlier, Stuntman also freed him from the Treepeople 'brand', if you will, and his songwriting is at home with the liberated songwriting of Scott's, though as mentioned by Lennie, many of the tunes were Thin Section songs, written prior to the formation of Stuntman. It was a great marriage. And to hold it down, Mike Rundle and Sean Lennon were perfect, and had a natural groove to both songwriters' styles (Lennie is a beast on bass and Rundle a natural drummer). It rocks, and is also meticulously crafted, intricate, and the guitar work is stellar. A shout out for the production as well. Listen for yourself.
I was excited for Scott, I remember. Shit came together and it worked. Except, per Scott, they were kind of fuckups, too. They slept in and missed a crucial meeting with Mercury Records that their manager had set up. They fucked up enough to have said manager quit. But Scott also became a husband and father at this time, and decided to hang up music and focus on that new life;
"
...We did some tours, but I was so burnt out and had my first child Alex. Touring so hard with Treepeople made me burnt on the whole music thing. I wanted to be with Alex and settle down, focus on my career, and be more domestic ...I kinda let the guys down, but I needed a break. I think we did some great music, and I loved playing with all of those guys….Stuntman was a great band with great musicians..." ~ Scott Schmaljohn
Thus, the band was short-lived, 3 years. Every time I listen to the recordings, I think, man, this shit should have lit!
Photograph by Wayne R. Flower (shitty scan of photo also by Wayne R. Flower)
House of Wong and Faintly Macabre
There was a house in the Wallingford Neighborhood in Seattle that had been home to many in the music scene, this house was known as the House of Wong, for the spray-painted stencil of that very title on one of the faces of the cement steps up to the front porch and front door. Most likely the stencil was put there by early musician tenants, a group that became an original and heavy voice in the scene, the big and brooding Earth, considered one of the main pioneers of 'drone metal.' Look 'em up! Get on it. I ain't doin' all yer leg work, get goin'! One time an ex of mine and I randomly ate dinner will Dylan from Earth
and another gentleman whose name I can't remember

at House of Wong, the first time I had been in the house. It was a really mellow, nice evening, I must say.
Ahem. Where were we? Ah, so anyhoo, House of Wong was home and host to many a band, occasionally there were shows in the basement, where the bands rehearsed. It was a grand, big old house, up on a man made hill (most houses of a certain era were raised up in this way in the Wallingford neighborhood), two stories, 4 bedrooms, big basement, a driveway up to the door of the basement, perfect for loading equipment in and out. There were many awesome and wild parties there in the early to mid '90s.
I knew a few friends who, at different times each lived in the room upstairs in the front of the house where someone had tried to shoot themselves, and there was still a shotgun hole in the ceiling [Per Adam, bass player in FM and House of Wong resident, it was a 9mm pistol that made the hole, put there by an ex of his - Adam also told me of other bands that rehearsed at the house over time:
Steel Wool, Dobermans, Night Kings, Zip Gun, Unsane - and he also told me that Courtney Love auditioned
Patty Schemel the drummer for Hole, in the rehearsal room]. A house with stories, to be sure, some of them mine. Some fantastic times were in that old house, and some phenomenal rehearsals.
I knew the songwriter of Faintly Macabre, Kellie Payne, from a cool band she had been in called Belle Jar, and she was good friends with many of my good friends in the punk scene like Paula Sen and Doug Pack and Drew from Violent green (and from Whipped with the aforementioned Paula and Doug) and those whole crusty punk and nerd punk crews. Kellie was/is small, blonde, no bullshit with a razor sharp wit, beautiful and smart as hell, and one of those musicians who can play any instrument she lays her hands on deftly. A natural musician. At the time I met her, she was primarily playing guitar, songwriting and singing her songs in the bands she was in. Her boyfriend was a guy named Holden who did insane black and white (later color) drawings (which would be in many gig posters and record covers from this whole odd, cool scene), a person whose orbit I would be in later, and who would be my boss too for a time. We also tried to do a band that was just drums and vocals, me on drums, Holden on vocals. I wish I had even a boombox recording of the band, which we called Wayne Payne (Holden's last name was Payne). It never went anywhere but some of it sounded cool. He would form other bands with Kellie later as well. They ended up being married for a number of years.
I don't recall exactly how the band came to be, I hung out in circles Kellie was in a lot, so it was most likely at a party or something that Kellie asked me if I wanted to play drums. The bass player would be the super talented Adam Grendon, who also played in the wonderful Seattle/Bellingham band The Kent 3 (and was a resident of House of Wong), a band who grew to be important in my life (as did a few Bellingham folks/bands), I even sang my favorite song of theirs onstage with them at a show, fun as hell. Anyhow, he, myself and Kellie as a band sounded and felt right to me. I had always liked Kellie and loved her songwriting or anything she played in (after a time she was always in at least 3 bands, which was coming for me, as well).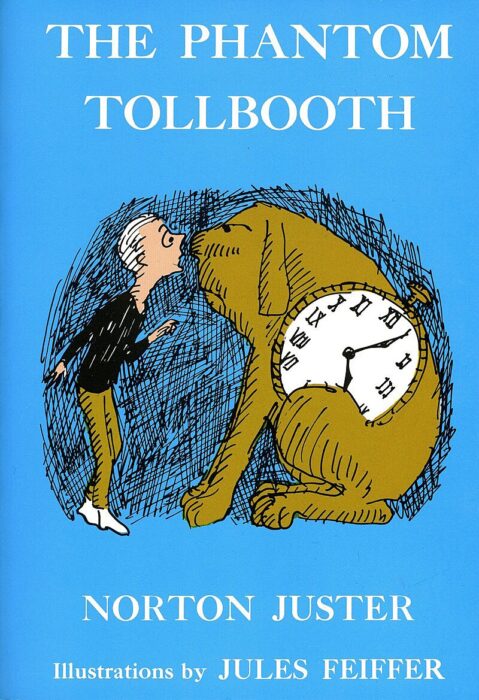 Faintly Macabre's music is not easy at all to explain. That's a tall order, I tell ya. It leans New Wave and Goth circa the earliest days of that era, the Manchester stuff. The band title comes from a children's book, a great one, called The Phantom Tollbooth (there was band in the late '80s named after the book that State of Confusion played with once, good band), Faintly Macabre is a 'which', as a play on 'witch' - the whole book has this kind of wordplay in clever set ups within the narrative. Faintly Macabre is in jail, as I remember it.
The 'which' Faintly Macabre', from the book The Phantom Tollbooth. Illustration by Jules Feiffer
Another word that I have seemed to use when describing Faintly Macabre over the years has been 'angular.' There are sharp edges to it, bassy as it is overall. Kellie's guitar playing has that quality of tension and release, coming directly from British New Wave and punk stuff like Gang of Four and Killing Joke, and this was the first thing that bonded us musically, our love, all three band members, of the Manchester '80s stuff. But there was also a dose of Black Sabbath mixed in (especially the last ep we did, House of Wong) which was perfect, as I was listening to a lot of Black Sabbath at this point, that and Slint and Unwound, three bands whose drummer's styles began to show up in my drumming style (of course, the Bill Ward influence was already there in the Treepeople stuff I played on, especially the later stuff like Guilt, Regret, Embarrassment).
I dove into drums again with gusto, and a strong work ethic. I felt the rhythm of Kellie's songwriting, either when swaying or methodically going up or down angular steps until a release of firey, pulsing rock, deserved drumming that represented it well.
A drummer has the scary power to ruin
what a songwriter is doing. It pays to be mindful of this, young drummers. For example, I feel like Jeff Buckley's album Grace illustrates this. Once I heard his earlier solo performance at Sine' Cafe in NYC, heard those same songs from Grace done solo, and after I read about how the band for the tour (and thus the record prior) was assembled last minute by the label so they could immediately tour, I realized the rhythm section had a sort of rushed
machismo that

took away from the songwriting, and diminished the androgyny of Jeff's true sound, especially in the drumming. To be fair, I don't blame the bass player or drummer, who are fine musicians in their own right, this was forced due to the situation, and the label's approach, I am sure they all did their best within limited time. I state it here as it is a stark example of how inappropriate drumming for a distinctive songwriting style can crush its voice. I digress with the best! However, there is a through line with me being introduced to the Buckleys
through

Chris Takino and Jenny O'lay, starting with listening to Jeff's father, the famous folk, jazz, experimental song spinner and son of a long line of Irish troubadours, Tim Buckley. And oddly, Violent Green would be on tour and playing Memphis in 1997, when Jeff Buckley, who had been living and working on a new record there, drowned in a the Mississippi River, right before we arrived. I hadn't yet been convinced about him and his music at that point (though I came to be a fan), but I remember when I heard the news, it rattled me a little, and it was such surreal synchronicity, as we drove around, seeing the river...For later in the tale, to be sure. I recommend a decent dual biography of the father and son singer songwriters called Dream Brother.
Faintly Macabre clicked, like a finely tuned bicycle. We had instant chemistry, as I remember it. Maybe Kellie and Adam have other takes on it. But we got to work right away and practiced our asses off in that dark House of Wong basement. The band played when we could, Adam was busy a lot with The Kent 3, and I was getting more and more busy with Violent Green, and another band would come into my life in a year, the Halo Benders.
It wasn't planned, but the timing of this entry which happens to have FM in it is 20 years after we recorded an ep we never mixed due to the band breaking up when Kellie and Holden moved to Austin, Texas. Anyhow, we finally had it mixed by Steve Fisk this year. I aim to get it up on Bandcamp and other places soon. It sounds pretty good, I must say. More on Faintly Macabre to come.
Trouble at home...
My relationship with my girlfriend was not doing well and about to take a major turn, due to my mental state, which was pretty riddled with anxiety and insecurities unresolved, and amplified by massive caffeine use at work and home, little sleep and an increasingly busy band schedule, and the fact that my relationship became a long distance one suddenly, as my girlfriend had decided to go to Western Washington University in Bellingham, Washington, about an hour and a half Northwest of Seattle, near the Canadian border. I had so much going on in Seattle that I couldn't commit to moving, a decision which of course majorly disappointed her, and the relationship was never to be the same again, its days numbered, as I wanted out but was too much of a coward to do it gracefully. Young
Wayne. He had some issues. This is true.

Oh the scoldings/warnings we would give our younger selves were we to discover time travel.
For the first time in a while, I had to get a roommate, my first was an old friend from the Pullman, Washington scene named Dan. He was bussing tables at the main jazz club in Seattle at the time, Jazz Alley. That was short-lived. At one point a mutual friend of mine and my girlfriend's who was another Seattle transplant from Boise lived with me. Then I lived with another Dan who worked at Sub Pop, a friend I met through Treepeople.
Kurt says fuck it
Volumes have been written about Kurt Cobain's death in 1994, from straight news reporting to conspiracy theories, as is always the way with celebrity deaths. I knew some of his close friends and in my opinion no one murdered Kurt. He had classic mental issues that lead to depression, and it wasn't the first attempt. People fall so in love with artists that they refuse to accept reality when they die, especially if by their own hand, they know they would never leave them! People are entitled to their own fantasy versions of what happened to Mr. Cobain. As a result of so much being written of it, I won't take up too much space on it, but I will give my take on it, from where I was at the time in my life. I don't remember where I was when I heard, most likely at work, I am sure I heard it on the radio (remember young ones, no smartphones, and no internet then). He shot himself with a shotgun in his home. In a weird twist of 2 degrees of separation, the shotgun he used he got from Dylan of Earth, whom I had had that dinner with in the House of Wong, 2 years or so prior.
As mentioned above, my recent roommate Dan worked at Sub Pop. The day after Kurt died, he came home from work looking like a shell shocked victim of war. "The phone rang all day, and it was all these...vultures wanting to 'buy every Nirvana record we had.' It was awful." (paraphrasing here). I was not surprised to hear this, but also appalled at people. I had a vision of vultures picking Kurt's bones, shook it out of my head.
Photo retrieved from the Vulture Conservation Foundation website (note it is acknowledged here to an animal that is a vital, misunderstood and unsung part of our ecosystem that recycles dead things that would othersie spread disease, it is an insult to compare them to record collectors and distributors of low moral standing, who are far below them in terms of likeability)
Of course, as you can imagine, most everyone in the music scene was stunned, in shock. I have mentioned it before, but pretty much in every different type of music scene, whether people actually liked Kurt's music or not, the vast majority of people felt like Kurt was our 'favorite son' from the city, to use old school parlance, or like our brother (which is more how I saw him, a little brother, probably came from being friends with Tad, who was first to take Kurt under his wing and take them on their first European tour) the one who by example got people all over the planet to come over to his way of seeing music, and art and sexuality and you name it. He never set out to be some cultural icon but it inevitably happened, much to his chagrin. Fame never sat well with him.

He felt that the wrong kinds of people were really into his music while missing his heartfelt message, like the evil frat boys who would have beat him up in high school gang raping a woman while singing his song 'Polly.' I know from friends of his that these things crushed his soul, bit by bit.
Smells Like Teen Spirit, a song that started out as a sort of joke and a nod to The Pixies, became the bane of Kurt's musical existence and destiny. And he saw people hunger for this one thing that became popular overnight, and it thrust him into the world of pop culture, and into a position that allowed him to see what he had previously seen and reacted against as an outsider; the addiction people have to what everyone else loves. It becomes a collective longing to belong.

In my opinion, Kurt's approach
came

originally from a genuine punk attitude, and of course he felt guilt about becoming part of the machine punk railed against, his rebel yell became commoditization, but part of that punk ethos said, 'all are welcome,' as long as you are cool. But at that level of fame, you no longer have control over who loves you, you are no longer artistic gatekeeper
. And you start wishing you could not have many of the fans you end up with. The more people there are, the more chances of assholes, of awful people, loving it
(and frankly, on a much smaller scale, a similar thing happens in punk scenes).
That all said, I am in no way glossing over his other issues that contributed to his death: mental illness, drug addiction, and proximity to a toxic mate. I say this, again, from a perspective of people who knew him, (I never knew Courtney and had only met Kurt at a show I played with Nirvana when I was in Treepeople, see part 34) they are stories from their perspectives, stories of how she manipulated him and used him and isolated him from all his close friends, who resented her for it. I am not in the camp who say she only became known for her music because of her relationship with Kurt. Obviously it didn't hurt, but I feel she has genuine musical talent.
I just feel she has the same issues listed above, and I have seen this kind of relationship before, it becomes a dumpster fire eventually, because two people with all those heavy issues torch it all, inevitably, whether intentionally or subconsciously, and it is too easy to make her a villain, but she sure as hell didn't better him. They were a perfect hot mess storm, and Kurt was no innocent in all their shenanigans. In fact I don't feel Kurt was as overall innocent as he portrayed himself. Not to say he was some evil, violent or cruel person. But he was smart in a way that allowed him to fuck with people's heads, and his weapon against the ills of fame, I feel, was a sharp wit and and a gift for bullshitting and seeing how far he could go.
So, going the absolute farthest he could go, Kurt said 'Fuck it,' and left the stage. Leaving all of us in the scene trying to understand it all, what it meant for our lives going forward. The event of his dramatic exit from Earth also caused some of us to worry about others we knew in the music scene who were having their doorsteps darkened by the same demons who swarmed around Kurt and Courtney's doorstep. And then there were people who shrugged as they never really had him on their radar.
But many of us, we missed him instantly. We missed his snide rebukes, his refusal to play the game a certain way, his antics with reporters the likes of which hadn't been seen since Lou Reed and Bob Dylan, we missed that voice, so clear, but gravelly, passionate and forceful and vulnerable all at once. Missed how he could make a perfect pop hook sound punk; "...Beat me outta me..." Missed the naked poetry of his lyrics. He was truly something.
(Side note to people who post photos of the crime scene: Yeah, free speech, the photos are public, but fuck you. This is a terrible thing for those who survive his death to be subjected to. Just fuck you, ghouls).
Photo reteived from the Kurt Cobain Wikipedia page
Then came other deaths in the music scene,
as I have hinted,

and some deaths had happened before this time that I missed covering like that of Stefanie Sargent, guitarist from the phenomenal Seattle band 7 Year Bitch
in 1992 (no disrespect in missing it, there is just so much info to remember and add, I inevitably miss so many things, I begin to write of the deaths and triggers uncover others)

, and she was friends of friends of mine from the crusty punk scene, so I ran into her here and there.
My memory of her was that she was a great musician who really put a lot into performing and rocking out and she had the kind of smile that when you saw it, it brightened your mood instantly.
Photo retrieved from Toopics on Instagram
Lastly: I am officially done trying to do clever lead-ins to next entries at the end of each one. I am rarely right on all of it, as I never have space once I get going. For instance, in the beginning of the section about Kobain's death, I say I won't go too into it, but then I do. I leave those contradictions in by design, as this is how conversation is, yeah? You start here...go there. That said, this entry is currently 3 times the length of the average post, so I tip my hat to you (even though I never wear hats that can be tipped) and thank you for sticking with the journey this far, and for reading this modest blog. I wish you a good rest of the evening and weekend.
Wayne Ray Flower II, 11/23/19
Stuntman Bio
When first I was asked to write a bio of Stuntman, I asked frontman Scott Schmaljohn if he took a different approach to songwriting for Stuntman as opposed to for his previous band, also my previous band, the band he and I, Pat 'Brown' Schmaljohn and Doug Martsch co-founded; Treepeople. As is fitting of Scott, he replied (via text) with a succinct, to-the-point reply that made me slap my forehead and say, "Of course," realizing my foolish assumption; "I have always written songs the same way. There is no difference in the band." In other words, a Scott Schmaljohn song is a Scott Schmaljohn song. Period.

Scott's songwriting is born from a steady heartbeat, whether it's a slow or more upbeat tune, and is much like his clear way of speaking; you don't have to guess where he is coming from. He is one of the most unique guitarists/songwriters around, and his style embodies the word 'electric' in 'electric guitar'; notes bend and stretch like live electric wires, throwing you, because the playing is so non-traditional and original, similar to (though sounding very different from) the way Greg Ginn of Black Flag plays (and since Black Flag were early heroes of ours, it makes sense).

Scott and I met Stuntman co-guitarist/songwriter John Polle when we were still in Treepeople together, in about '88, when Polle fronted the excellent Pullman, Washington band, Ignatius. Polle formed a band with Stuntman bassist Sean Lennon after Ignatius broke up called Thin Section and one of the Stuntman songs on this record was carried over ('The Devil'). Thin Section gigged with Treepeople a lot and that is how Polle really got to know Scott, who eventually asked him to join Treepeople. The first Stuntman set was made up of half Treepeople songs from their final lp, 'Actual Reenactment' and half Thin Section songs.

Why 'Stuntman'? The band name history is interesting. Per Scott, "...We struggled with a name and our first working title was "Dry Socket". I had gotten wisdom teeth pulled and I thought it was kinda cool. Glad we changed it [the band played a few shows under this name, as well as the name 'Blanket Party']. I always liked the name Stuntman because of the '70s reference (I always wanted to be a stuntman growing up). I also thought the Stuntman title was appropriate since you have to get up on stage and throw yourself into the music. You beat yourself up on tour and keep going every night…"

Polle's songwriting is more poppy than Scott's, but also darker in a playful way, like Pixies meets the Seattle band Pure Joy (pioneers of pop punk in Seattle, along with The Purdins). Some of the breakdowns in Scott's songs come off with a Fugazi flavor and the contrast is great. Polle's and Scott's playing were locked from playing together in Treepeople, and thus a bit of that 'jigsaw guitar puzzle' approach comes through, though in Stuntman, the guitars are locked in a more traditional, rock n roll way, and there is more room to experiment, which works well.

The band made a home base in Boise, picked up a solid local drummer there named Mike Rundle from a band called Dirt Boy, gigged there and did some touring. Lennon and Rundle were solid as bedrock in their support of the two songwriters, handling all that Polle and Schmaljohn throw at them deftly.

Scott was entering into new territory in his personal life when Stuntman formed; That of husband and father; "...We did some tours, but I was so burnt out and had my first child Alex. Touring so hard with Treepeople made me burnt on the whole music thing. I wanted to be with Alex and settle down, focus on my career, and be more domestic [while cranking out phenomenal songs like 'Bleed'!]. I kinda let the guys down, but I needed a break. I think we did some great music, and I loved playing with all of those guys….Stuntman was a great band with great musicians. We were fuck ups and blew a lot of opportunities given to us. We had a morning meeting with Mercury records and we overslept missed the meeting, pissed off [Stuntman's manager] and ruined a lucrative record contract...Wasn't meant to be I guess. We seemed to do this often, as our manager finally said "you guys are fucks!" and left us. John Polle one time asked the bartender at a show in Eugene if he could have a pint glass of scotch. The bartender laughed and said "Um, I don't think so." I think you get the picture…" A stuntman must be prepared for anything; whether he's tearing it up on stage or changing diapers, he's goin' in.

Stuntman was a band from 1994 until 1997, releasing two full albums, three 7" records, and three split 7" records, as well as appearing on a few comp records.

Wayne R. Flower, 5/26/17